Tattoo of the day and best of show and will be free to enter and must be done only at the convention.
All other categories will cost $10 per tattoo per category and can be healed OR fresh.
The ONLY way to enter BEST OF SHOW is to place in one of the Tattoo of the Day categories.
ALL categories will be awarded in first, second, and third place.
Back piece entries must be at least 75% coverage. Sleeve entries must be at least 50% coverage.
For small tattoo categories are considered 5″ x 8″ or closest to that size. 
For portraits, you MUST have a refence picture to show at registration.
Entry for tattoo competitions Friday until 9pm, Saturday until 9:30pm, and Sunday until 5pm at the t-shirt booth, Lexie will be walking around at noon to pre-register, she will only be making one round so if you miss her, please register at the t-shirt booth before the designated time.
Tattoo of the Day and Best in Show will be the last categories each day. This is for late entries, so everyone has a chance to enter.
We will accept late entries for tattoos being done at the convention, as long as judging for that category hasn't started.
Black and Grey tattoos are to have absolutely NO COLOR. We have a Color Infusion category that will be black and grey and color mixed.
There are no refunds for any categories, so make sure you line up at the right times!
All tattoos entered into any category will be determined eligibility at registration.
If you are busy, we will have staff walking around preregistering for tattoo categories.
We will be having a Friday the 13th category this year since it falls on those dates! Entries may be healed or fresh for this category. Entries may include any "spooky" tattoo it does not have to be specifically "Friday the 13th" themed.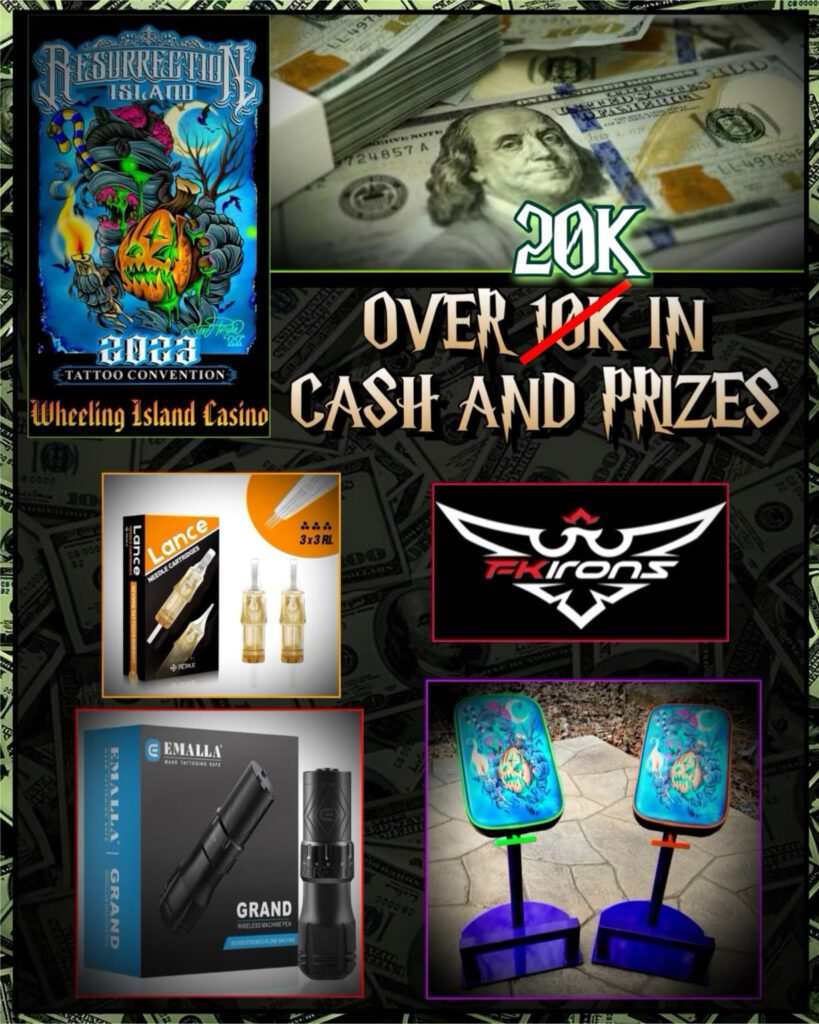 Trophies and plaques will be awarded, along with over $20,000 in cash and prizes!