Meet your Top 6 Resurrection Dolls
Be sure to vote for your favorite doll each day of the convention. Voting is only possible in person throughout the convention on October 13-15. One vote per person per day. Voting takes place at the Resurrection Island T-shirt/ Stencil booth.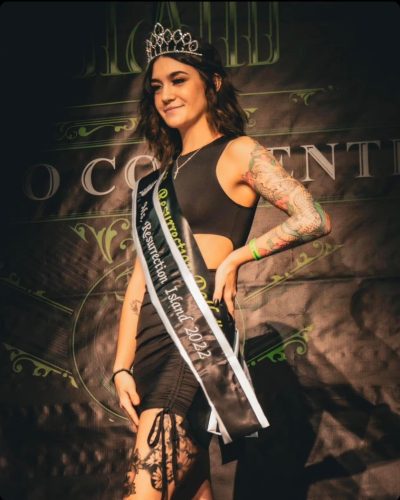 Resurrection Dolls is a modeling competition that will be held at the convention. 
You will need to fill out an application. Once your application is approved, we will post your picture on our social media pages.
Please read our rules before applying! Click below to continue.
Photos must be recent, high quality modeling pictures.
No selfies will be accepted.
No fully nude images.
Your photo will be put on the Resurrection Island and Breaking Skin Tattoo's social media pages, and will be used this year and future years for advertisements
Please attach the photo you would like to this application.
Applicants can apply until August 13, 2023. If you want to change your submission photo, please let us know via email.
If you are selected we will reach out to you via email so please keep an eye out. If you fail to respond after 3 attempts we will move on to the next applicant.
You will need to be available all 3 days of the convention at any given time, for photo ops, interviews, and competitions.
Thank you to all that apply, good luck, and have fun
Any rude or negative comments, online bullying, or unnecessary drama starting towards any of the other models online, and in person will not be tolerated and result in automatic disqualification. No heavy drinking or drugs. The competition is free to enter and will start on Friday and end Sunday. You must be 18 or older to enter. Please make sure you have filled out the entire form. Resurrection Island will post your entered photo on the Resurrection Island Instagram page, you MUST be available all 3 days of the convention. (If you are picked for the runner up positions, you MUST be available all 3 days incase something were to happen.) You must be available to walk around, interact with the attendees, pose for pictures, pass out awards, and just be available for tasks. Be interactive with everyone. This can help you get votes! Models must bring at least 3 outfits specifically for the convention to wear, and hair and make-up will be provided on site. On Sunday, 3 girls will be selected and will be voted on at the Resurrection Dolls booth. The 6 Dolls that come to the convention will all get gift bags from our sponsors. The top 3 Dolls will get larger gift packages and trophies from our sponsors. The goal is to have a fun, memorable experience!